ANN WARNER
Author of Emotionally
Engaging Fiction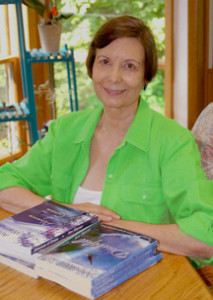 "Reading gives us someplace to go when we have to stay where we are."
Mason Cooley, Author
Welcome!
Here you'll find stories to entertain you, to inspire you, to keep you company when you need to be distracted from life's difficulties.
Stories that explore life's enigmas as they take you on journeys to unusual settings: Alaska, Doubtful Sound, New Zealand, the Great Barrier Reef.
Along the way, you'll meet strong characters facing interesting challenges with a grace earned through determination and persistence. Perhaps their struggles will illuminate the mysteries of your own heart.
To keep up on new releases and what I'm working on, please consider joining my mailing list.

My Books
To introduce my storytelling, I'm offering three of my novels as  free downloads. Click on the links below for more information.
Several of my books are also available in audio editions.
The Babbling Brook Naked Poker Club Series

 


The Dreams Trilogy
My Other Novels
My children's story that is a plot thread in Dreams for Stones